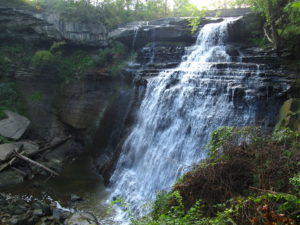 First and foremost, it's important to note that Brandywine Falls is one of the most popular and heavily visited areas in the park. As such, it's important to be mindful of your surroundings, follow park rules and regulations, and respect the natural environment.
Here are some tips and advice for your visit to Brandywine Falls:
Safety first: The trail leading to Brandywine Falls can be steep and slippery, especially in wet weather, so wear appropriate footwear and take caution. Always stay on designated trails and follow posted signs.
Prepare for the weather: The weather in Cuyahoga Valley National Park can be unpredictable, so it's important to dress in layers and bring appropriate gear such as rain gear, hats, and sunscreen.
Enjoy the scenery: Brandywine Falls is a beautiful waterfall surrounded by a picturesque gorge, so take your time to appreciate the natural beauty of the area. There are also several viewpoints from which to view the falls, so don't hesitate to explore the area and find your favorite spot.
Learn about the history: Brandywine Falls has a rich history, including its use as a power source for mills and factories in the 19th and early 20th centuries. You can learn more about the history of the area by visiting the nearby Brandywine Falls History Center.
Respect the environment: As with any natural area, it's important to respect the environment and leave no trace. Please pack out any trash you may have and avoid disturbing plants or wildlife.
I hope you enjoy your visit to Brandywine Falls and have a wonderful time exploring Cuyahoga Valley National Park!