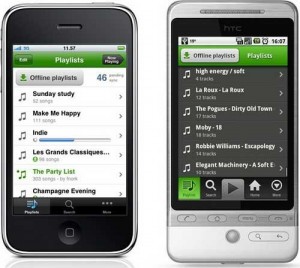 So you have Spotify Premium and now you want to know how to download the songs so you can listen during offline mode or to use it like iTunes. Well, its actually pretty easy. After searching and searching around it was funny how it was sitting right in front of my face.
Spotify Premium allows you to wirelessly sync all your favorite Spotify playlists to your phone and listen . Listen wherever you like without being connected to the internet. Just log in to Spotify once every 30 days to prove you're still a Premium user.
Or go online and stream any of the millions of tracks in the Spotify library. You can use Wi-Fi or 2.5G/3G to use Spotify just as you do on your computer. Access your account and all your playlists, or go track-hunting.
If you have an Android watch this video:
IF you have an iPhone just watch this video: